Please Review Prior to Registering:
Before you register Please – STOP AND READ:
Arena protocols do not allow for parent viewing at this time. Skaters will be under the care of parent volunteers (yes, you can volunteer!).
Please Review COVID-19 Protocols prior to registering COVID-19 PROTOCOLS
We look forward to having our athletes back on the ice.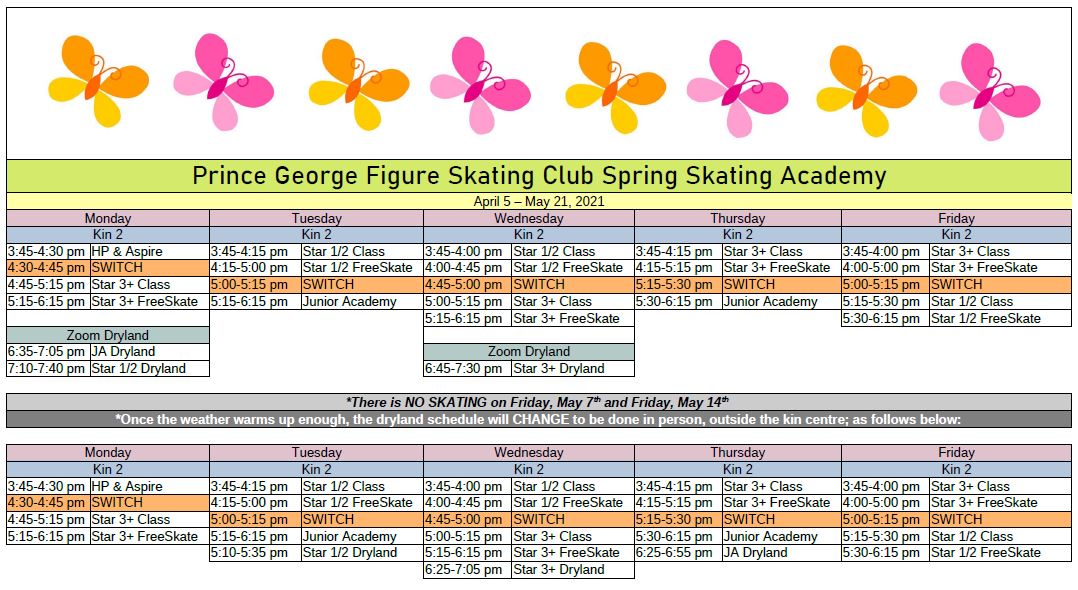 Please note that if our system detects more than 30 minutes of inactivity in your browser, your registration spots will no longer be reserved and you will need to begin again.
Having difficulty finding a program? Use the side menu options to filter the displayed programs.
Program Registrations
CALENDAR VIEW
Session Description
Fees

Day / Time / Location:

T & Th, Time Varies, Kin 2

Kin Centres,

Kin Centre II

$175.00
Loading...
Program Description: Junior Academy - April - May 2021 - 2 Days/Week
Registration Begins: March 1, 2021 at 12:00 PM
Registration Cut-off: May 21, 2021 at 12:00 AM


Day / Time / Location:

T,W,F - Various Times, Kin2

Kin Centres,

Kin Centre II

$265.00
Loading...
Program Description: STAR 1 & 2 - April - May, 3 Days/Week
Registration Begins: March 1, 2021 at 12:00 PM
Registration Cut-off: May 21, 2021 at 12:00 AM


Day / Time / Location:

M,T,W,F - Various Times, Kin2

Kin Centres,

Kin Centre II

$310.00
Loading...
Program Description:

ASPIRE STAR 1 & 2 - April - May, 4 Days/Week


Registration Begins: March 1, 2021 at 12:00 PM
Registration Cut-off: May 21, 2021 at 12:00 AM


Day / Time / Location:

M,W,Th,F, Various Times, Kin 2

Kin Centres,

Kin Centre II

$420.00
Loading...
Program Description: STAR 3+, April - May 2021, 4 Day/Week
Registration Begins: March 1, 2021 at 12:00 PM
Registration Cut-off: May 21, 2021 at 12:00 AM


Day / Time / Location:

M,W,Th,F, Various Times, Kin 2

Kin Centres,

Kin Centre II

$475.00
Loading...
Program Description:

HP - STAR 3+, April - May 2021, 4 Day/Week


Registration Begins: March 1, 2021 at 12:00 PM
Registration Cut-off: May 21, 2021 at 12:00 AM